1. I am something of a lotion/moisturizer addict. The combination of lots of hand washing at work and then at home in the kitchen constantly dries my skin out, not to mention the dry winter weather. This winter I have been loving this Origins Ginger Souffle whipped body cream. I keep this on my bedside table and use it every night (and some mornings as well.) It does a great job of soothing my skin, feels light and non-greasy, and is reasonably priced for the generous container. (I also still love the Josie Maran whipped argan oil that I have recommended in the past. I keep this at work and use it throughout the day.)
2. What is better than a light and colorful scarf to brighten up your spring wardrobe? Scarves (and all sorts of other accessories) from Live Fashionable, a company that is working to create sustainable business in Africa. Read more about their story and mission here. Their scarves have been my gifting item of choice lately. Give a gift while also making a purchase that means something – it's a good thing.
3. In my entire life, I never imagined spending upwards of $100 on a hair styling tool. Truly. Even upwards of $30 seems pretty crazy to me since up until this point in my life, all of my styling tools have come from Target and were mid-range at best. After changing up my hairstyle recently, I consulted with my stylist about what tool could give me the waves, not tight curls, I was hoping for. She introduced me to the curling wand, basically a curling iron without a clip. It took a few days to get used to but now I absolutely adore it. There are definitely less expensive versions out there but I read reviews until my eyes crossed and ultimately decided on this Sutra model. It is phenomenal. It heats up so quickly, curls fast and the waves stay for two full days.
4. This Around the World necklace from Erin McDermott recently showed up as my luxe box item for the month and I love it! So simple and classy, it goes with practically everything. Definitely a staple jewelry item.
5. A striped t-shirt – yawn, right? It may not be the most fashion forward thing but truth is, we all need some basic tees for layering and such. Most tees are nothing special or worth mentioning, but I must profess my love for these Boden Breton tees. The material is thicker than most t-shirts and of great quality. I have had some for nearly two years now that still look wonderful.
6. Any fellow die hard J.Crew lovers is aware that they have the best ballet flats ever. Well, they used to. Then for some unknown reason they discontinued the Cece style and tried to introduce a much less elegant version. Though I never tried the understudy, reviews were pretty brutal and everyone asked that they bring back the Cece flat. Voices were heard and they are back indeed! I added the black suede to my collection a couple months ago and wear them constantly. Another wardrobe staple perfect for pretty much any situation.
(Side note on the fashion front – I had some other really great fashion finds in the last couple of months that I was dying to share with you, but sadly all are unavailable now. This is what I get for wanting to wear and fully test things before recommending them. Pssh.)
Guys, I took a break from knitting. I don't even know who I am anymore. Lately I have felt drawn to become more proficient with my sewing machine. I still haven't taken a class because I can never find one that fits my schedule (and then when I do, they are full.) As I do with so many things, I decided to just jump in feet first and try to figure it out myself. My friend Kelli got me started with the basics (thanks Kelli!) and I've been Googling and You Tubing pretty much everything else as I go along. It has been so much fun! The first thing I made outside of the pillow realm (since my ombre pillows) was this little smocked top for Caroline. This pattern is from Purl Soho and I loooove it. I have never done smocking before but this pattern is very clear and makes it fairly simple. This project only took a few hours over the course of a weekend. I have a feeling I'm going to be whipping up these cute tops for all our friends' little girls as well.
After that, I went back into pillow mode. I'm in the midst of a somewhat frantic push to redecorate our guest room for company coming at the end of the month. For those of you who keep asking for posts about decorating in our new house, you will finally get at least one when the guest room is complete. (There will eventually be more to follow, but I really take my time with decorating.) Both of the pillows here are a little sneak peek of the guest room project. The top pillow with the yellow flowers was inspired by some pillows that Target used to carry. I used this tutorial to learn how to make a zippered pillow cover and then used this general method for the flowers but a little looser/less structured. (My fabric strips were about 1.5 inches wide, 1 yard long each.) For the bottom pillow cases which will be for the guest bed, I used this tutorial from Purl Soho. Very easy to follow and loved the results. Take it from me though – queen pillows that fit their listed queen dimensions do not exist. Either make standard or make kind. I adore Liberty of London fabric and have been obsessed with this particular Liberty pattern since the first time I saw it a couple of years ago. Now that it will be a permanent part of the guest room, I expect I'll end up wandering in there for naps. You know, the three times a year I get to take a nap.
After reading a patch of lackluster books last year, I have been absolutely loving most of what I have been reading lately. I recently finished The Glass Castle by Jeannette Walls. This is a true story of a woman who grows up with a well intentioned but unreliable alcoholic for a dad and a free spirit with depressive tendencies for a mom. This memoir of her childhood, moving from place to place in a constant state of upheaval with a chaotic family where the kids had to fend for themselves, is honestly hard to describe. Much of it is so crazy and startlingly upsetting, it seems impossible that it could be true. Do not miss this book.
I'm absolutely certain that when I look back on everything I have read this year, even amongst a lot of great books so far, Wonder by R.J. Palacio will be one that stands out for me. This book is about a boy with extremely severe facial deformities and the challenges he faces when he starts going to middle school after previously having been home schooled. This book fluctuated from making me laugh to making me cry several times. Though it is heart wrenching, it is ultimately heart warming and just an excellent read. If I were queen of everything, I would make this required reading for all kids, period. I am looking forward to reading it with our kids as soon as they are old enough (probably soon for Andrew – it doesn't have much or really any mature content beyond the bullying theme.)

Let's move on from bullying to a related topic. Public bullying and public shaming via social media. I find myself spending less and less time on social media, and avoiding ALL COMMENT SECTIONS EVER, because I don't like what I see. People are not their best selves on the internet. In fact, some people seem to become their worst selves and it is really concerning. I have had a very mild taste of this as long as I have had my blog because no, I will not Google that for you, and some people get pretty worked up about it. But that pales in comparison to what is going on all over the place online. We can do so much better by simply having some decency, empathy and just generally not being jerks.
This recent episode of This American Life has as its first act, the story of Lindy West and her experience with an online troll who went into ultra-personal attack mode. This story is, on one hand, really disheartening, but has an interesting resolution.
Though Lindy's story focuses on a single troll who went to great lengths, this recent article in the New York Times by Jon Ronson about collective public shaming is food for thought that I think everyone needs to read. I hope at least it gives you pause before the next time you condemn someone who really, you know nothing about. (Ronson recently published a book on public shaming, depicted above. I haven't read it yet but hope to soon.)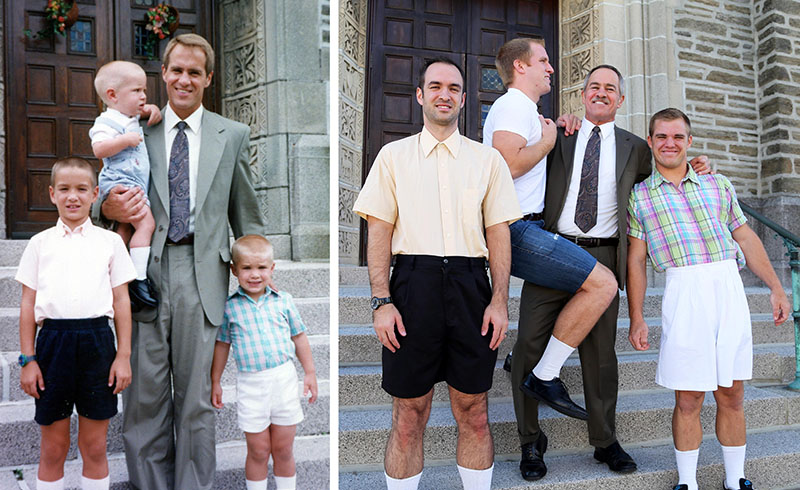 Let's not end on that downer note. Instead of dwelling on the sorry state of affairs on the interwebs, we can all laugh hysterically at one of the best things to come from the internet – adults recreating childhood photos. I find these absolutely hilarious and this set is particularly on point. I'm really hoping that my kids do something like this for my 50th birthday. Kids, if you are combing through the archives, please take note.
Disclaimer:  These posts are a way for me to share the things I love with you, simply because I love them!  Some of the links in this post are affiliate links meaning that if you make a purchase through these links, I will receive a small commission. This helps to offset the costs of running this site and allows me to continue providing you the content you enjoy.