Welcome to the barren fashion wasteland that is January! We're past the glitz, glitter and good sales of the holidays and even though companies are releasing the first waves of spring lines, none of it will even be relevant for a few more months. Even so, I do have a very few finds to share with you.
1. First up, Bite lipstick, specifically in this pomegranate shade. I know I've said many times that I'm not a lipstick girl and I live and die by the Fresh Sugar lip treatment (which I still adore and use daily.) However, I recently went in search of a perfect bold lip color to wear out during our weekend in Chicago and this is what I settled on. Since then, I have taken to wearing this more frequently than I ever would have expected. It has a nice smooth formula and has great staying power.
2. It dawned on me some time last year that though I have a few different pairs of black shoes, I didn't really own a simple black pump. That seemed like a pretty big oversight on my part. I had been eyeing these heels from Madewell for months (possibly years?) and I knew it was only a matter of time. Thankfully I held out for a sale since they are pricey, but I am so glad I finally bought them. They are a true staple item and I'm sure I'll be wearing them for many years to come. (PS – I'm pretty sure they are on sale right now!)
3. Mascara is my desert island beauty item, no doubt. I've been using various Dior mascaras for years and I swear by them. Occasionally I try a various formulas, both from them and from other beauty lines, but I always came back to DiorShow. Recently I tried out this Dior Addict It-Lash and it seems it was made for me. The brush may look odd and possibly wimpy but it is exactly what my thin, blonde, prone-to-clumping lashes ordered. This wand and formula do a fantastic job of fully coating but not glopping, separating, and fully covering my lashes. I absolutely love it!
4. Just months after I recommended a different eyeliner to you all, I went to restock and discovered it was no longer available. I was unhappy at first but it turns out, this was definitely for the best. Extensive product comparisons and lots of review reading eventually led me to this Stila all-day waterproof liquid eyeliner and basically, this is my perfect eyeliner. Far more perfect than the one I really did like before. The application is even easier, the point of the applicator is better defined and it goes on so smoothly. I just cannot recommend it highly enough.
5. I love Madewell jeans and these high-riser skinny jeans are my jam. Low rise jeans have never worked all that well with my body type, possibly because I am fairly short waisted. I don't know. The high rise jeans hit at just the perfect spot for me and are very flattering. Love love these!
6. This is the time of year I always get the itch to decorate or redecorate various parts of our home, and refreshing bedding is a great way to breathe new life into a room. Since our move a few months ago, I have been keeping my eyes peeled for bedding to match the general idea in my mind. These Kate Spade Saturday Galaxy Sheets from West Elm are exactly the kind of thing I have been looking for! I love the not-so-traditional look of the splatter design and the bright color.
I recently had a whole lot of hours spent on the couch trying to frantically finish a knitting project (see below) with a deadline. I could not really bear the thought of sitting in silence for all of that time, but also wasn't feeling movies. I decided that maybe it was finally time to try out audiobooks. At the recommendation of my good friend Gail, I listened to Heartburn by Nora Ephron, read by Meryl Streep. Well, this was simultaneously a perfect and awful intro to audiobooks. Perfect, because Meryl simply is perfect in this capacity and makes what probably would have been just a pretty good book to read into an outstanding book to listen too. It was only awful because, well, now I want every audiobook to be read by Meryl. Though the topic of the book is a bit sad in that it is about the end of a marriage (not that sad, really, since the guy was clearly a dirt bag), the narrative is addictively witty and funny. I cannot recommend this listen highly enough!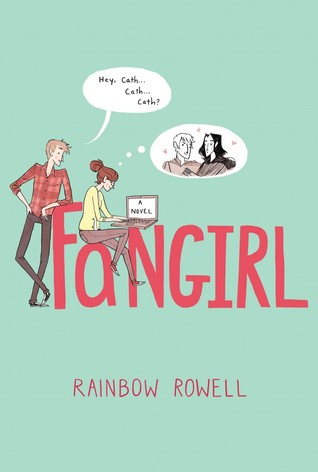 Last year, I sort of fell out of the habit of reading regularly. This was precipitated primarily by our family being busy with a lot of big life changes, but also by reading a string of books that were just not good or did not engage me at all. So far this year, I am off to a very excellent start with books that have sucked me in, pulled me under, and made me never want them to end. The first of these was Fangirl by Rainbow Rowell. When I really adore a book by an author, I do this thing where I put off reading their other work simply to save it, knowing for certain that I have other great books waiting for me – a bit like saving the best for last. Eleanor & Park was my first read by Rainbow Rowell and I loved it so much, I have been saving all of her other books ever since. This was my surefire answer to all of those boring reads, and it was perfect. It gave me even more reason to look forward to my next Rainbow Rowell read…you know, probably a year from now.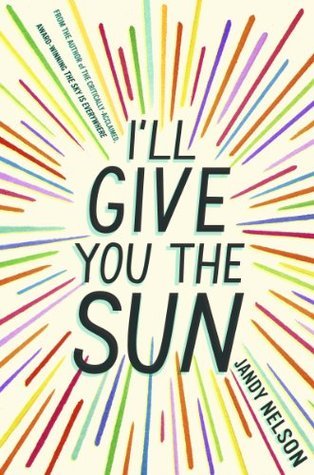 After finishing Fangirl, I had that feeling when you love a book so much, you aren't really sure what to follow it up with because it is an incredibly hard act to follow. Well, lucky for me, I chose I'll Give You the Sun by Jandy Nelson as my next read and… really, I cannot give this book any sort of proper review that can even begin to accurately capture just how much I adored it. Usually it takes me 50+ pages to really get into a book but this had me hooked by page 5. I laughed, I cried, and I truly never wanted this book to end. I read enough and have so much going on that most of the time, books fade in my memory and I remember very little if anything about them after some time has passed. This book really impacted me and I can tell that this is one I will remember in great detail for a long, long time.
My knitting needles have been in nearly nonstop motion the past couple of months. I have worked on projects big and small and have loved all of them!
Andrew asked me to make him a winter hat in his favorite color of the moment, red. After a few time consuming knits, this snow day hat was a perfect instant gratification piece. It knit up extremely fast – literally in about two hours total. Because this is such a fast knit it would be great for gifting and I can't wait to make more in the future. I love the way the simple technique of holding two different colored yarns together as you knit creates the marled effect.
This is my second time knitting these cabled fingerless mitts. I made a pair for a friend a year or two ago and Ben asked for a pair of his own. Though they look fancy, they are actually a quick knit. I love the finished product and so does he!
I made this purple Levenwick cardigan for myself and it was definitely a labor of love. It took a long time and was delayed even more because of a few logistical issues so boring, I won't even go into them, but in the end it was worth it. I love the unique construction and the pretty purple color.
This candy button hat was a fairly quick little knit and such fun. Such a simple concept and it turned out so cute! This would be a really fun project for a beginning knitter to try some new techniques with the little bobbles and color work in this piece.
I have wanted to knit this Ranger cardigan sweater for my brother for at least a year. I finally decided to make it as a Christmas gift for him this year. Unfortunately, I was so busy and started a bit late, and ended up in a total frantic rush, ultimately finishing the thing the day after Christmas. Womp womp. Oh well. Then I had to wait even longer for buttons to come in the mail (because apparently no good buttons are available in Indy? Seriously, why?) I really love the finished product and thankfully, so does he! This is a really excellent wardrobe staple for dudes and I'm sure I will be making more for family and friends in the future.
Lastly, in my attempt to fill the Serial void (seriously, I have talked and thought about this so much I think my head could explode), I have been exploring lots of other podcasts and other interesting sites. This NPR "Look at This" page is full of great stuff, both thought provoking and some more fun. This photo essay on the history of Chicago public housing is really interesting. Also, scroll down the page a bit to the portraits of homeless veterans. Really amazing work on this page.
Disclaimer:  These posts are a way for me to share the things I love with you, simply because I love them!  Some of the links in this post are affiliate links meaning that if you make a purchase through these links, I will receive a small commission. This helps to offset the costs of running this site and allows me to continue providing you the content you enjoy.