1. Starting out this edition of Things I'm Loving, I give you this gingham shirt dress from Boden – possibly the best darn dress that has ever existed. I had my eye on it all spring long and waited impatiently for a coupon code. Finally I purchased the navy blue version and the moment it arrived and I tried it on, I purchased the green version as well. With a bold print and pleated skirt, this definitely had the potential to be all wrong but let me tell you, it's all kinds of right. It's well made, well cut, flattering, and eye-catching.  I wore the green version on our anniversary date and, I kid you not, every waitress in the restaurant stopped by the table to compliment it over the course of the evening.  It's a good thing it was dimly lit because I was blushing something fierce.
2. It's not news that I adore all things grey (duh – see 2, 5 and 7). I saw these grey skinny jeans from Gap on super sale a couple of months ago while stocking up on summer clothes for the kids and decided to try them out. I have other pairs of grey skinnies but these are my fave. They have a bit of stretch so they are comfortable and flattering.  The grey finish makes them easy to dress up or dress down. I just love 'em.
3. This Josie Maran whipped argan oil body butter made its way into my Sephora shopping bag many months ago when my skin was insanely dry and itchy from the harsh winter weather. The moment I tried it out, I wanted to write a Thing's I'm Loving post immediately so I could tell you all about it. Instead, I totally forgot to mention it. But here I am months later, and still very much loving it. Some body butters I have tried in the past left a greasy feeling, but this leaves my skin silky smooth and does an excellent job moisturizing.  I have the sweet citrus scent which I really like – it's fresh but not overpowering.  One container lasts a long time, and compared to other highly rated moisturizers, this is a pretty great value in my opinion.
4. I'm super picky about sandals, especially gladiator sandals. But these cute strappy things from Target, I can totally get on board with.  They have a similar style to a pair from J.Crew that I have nearly worn to exhaustion, but the price is hard to beat. I have these in both the neutral (grayish/gold) and the mint green (shown here). These have been a summer staple thus far. I wear them all the time!
5. I love a good D'Orsay heel and these grey suede heels from Sole Society are totally fantastic. The cut is elegant and the grey is perfect – it's a nice pale neutral that goes with practically everything.  The heel height is moderate so they are still comfortable for all day wear at work or a night out. They look good with jeans and dresses (including that Boden dress above).  They do run a little big so if you get them, consider sizing a half size down.  Also, they restock sizes so if your size is gone, keep an eye out – they may come back eventually.  (New to Sole Society? Email me at annieseats at gmail dot com and I can send you an invite.)
6. This isn't the first time I've mentioned the Sugar Lip Treatment from Fresh. I just can't help myself! When Josie, Tara and I were visiting NYC recently, we got caught in a flash rainstorm and ducked into a Fresh store to wait it out. Not a bad place to be stuck, if you ask me.  Since we had time to kill, I decided to try on every color of the Sugar Lip Treatment. I liked a lot of them, but this Berry shade is my favorite of all. It's a nice bold color that makes a bit of a statement while still looking somewhat natural, and it doesn't make me feel like I have clown make up on.  I think this works especially well with my coloring (fair with pink undertones).  (I also still love my Rosé shade and wear it when I'm going for something a more understated touch of color.)
7. Guys, I feel so grown up. I have successfully incorporated a blazer into my wardrobe. (This doesn't make me like Lisa from Saved by the Bell, does it?)  I've wanted a blazer for ages, but something always held me back. Ridiculous prices.  Statement prints that don't go with much. Unflattering cuts.  All of the above.  While wandering through the Target clothing department, I came across this awesome blazer.  Since it was a blazer and the price was so good, I was wary.  It seemed too good to be true.  But I tried it on during each of the next eight or so Target trips and finally decided to go for it. Turns out, it's awesome.  I like to wear it with all black underneath and a bright colored heel, but thanks to the understated neutral stripes, you could make this work with lots of outfits.
I suppose it makes total sense that since I love both fashion and knitting so much, I really enjoy being able to knit myself items I actually want to wear. I bought the yarn for this lace top a year ago and finally got around to starting this project.  It's a great summer sweater and was a fun knit overall.  I may make another in a different color at some point. It's just a nice versatile item to have in my wardrobe.  (Link to the pattern here.)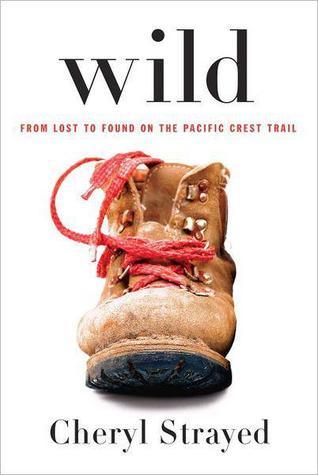 I know I'm late to the game with this book Wild by Cheryl Strayed, but I'm not generally up on the most current, popular books. I have a very long list to read and tend to choose the next book at random.  This book I literally chose by scrolling through my Goodreads list and blindly placing my finger on a title.  Little did I know, this book would speak to me so deeply.  If you aren't familiar, the basic premise of Wild is that the author experiences a devastating loss in the death of her mother.  She is shaken and lost in the aftermath, and decides somewhat on a whim to hike the Pacific Crest Trail. The story chronicles her time on the trail and the many obstacles she encounters.  Though I won't be dropping everything to hike in isolation any time soon, reading about her grief over her mother's death was as though someone had come into my mind, taken my own thoughts on the loss of my parents and laid them out for all to see. (Especially about my father's death, because it was so sudden and unexpected.)  I found myself highlighting passage after passage and just marveling at all of the common feelings of grief that we shared.  Ultimately, the story is interesting and inspirational, and was a very quick read for me. Have you read Wild? What did you think?
On a lighter note (I guess), have you seen Maleficent yet?  I don't see many movies in the theatre so it's always a treat when I can.  Recently a girlfriend and I met up to see Maleficent.  My expectations were a little uncertain – it totally could have gone either way, but I LOVED it. The setting, the animation and many of the opening scenes reminded me a lot of Lord of the Rings, but I loved seeing the Sleeping Beauty story from the supposed villain's perspective. I don't fancy myself a movie critic by any stretch, but I thought this was a really enjoyable summer movie and I think Ben and I may go try to see it again soon.
Lastly, a funny for fellow Friends lovers. If Ross had Instagram…totally awesome.  Also awesome – If Joey had Instagram. You're welcome.
Disclaimer:  These posts are a way for me to share the things I love with you, simply because I love them!  Some of the links in this post are affiliate links meaning that if you make a purchase through these links, I will receive a small commission. This helps to offset the costs of running this site and allows me to continue providing you the content you enjoy.