The theme of this things i'm loving might be best described as "yearning for spring while tolerating a hellish winter".
My deep love of Paper Source is news to no one.  (By the way, Indy peeps – did you know WE ARE GETTING A PAPER SOURCE THIS YEAR?!?!)  This mention is probably too late unless you already live in a city with an existing Paper Source, but I am crazy about this "love" ribbon.  I bought a couple of spools a few years ago and I still love using it (no pun intended).  Last year I used it to package up caramel corn for V-day treats for the coworkers – it just makes everything cuter.
Back in the fall I mentioned that I had a mini shopping spree on Etsy after passing my boards.  I purchased a few pieces of jewelry from Nest Pretty Things and I have to tell you, I love each of them so much.  Really everything in her shop is just bright and beautiful, and I just love the aesthetic overall.  Highly recommend!
I have a little problem called want to buy aaallll the yellow clothes.  With spring coming (maybe? someday?), this may become a problem.  I have had my eye on this pretty little number for.ev.er, and last month I decided it was time.  Even if it is too cold to wear it now, I am very much looking forward to the day I can.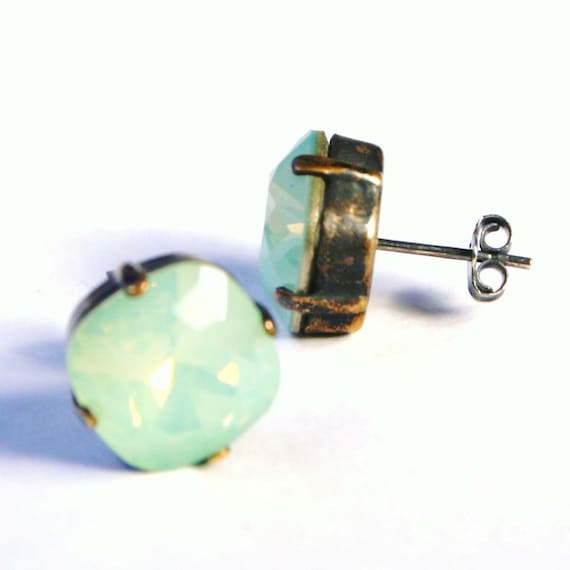 I know mint was the official color of spring last year or whatever, but I'm still all about it.  I bought these mint stud earrings recently and they are so incredibly gorgeous.  They are even more lovely in person and I want to wear them all the time.  I also love that since they are studs, they are low profile enough that I can still wear them even with my scrubs.  Nice change from my usual pearls.
And on a completely different and much darker note, who is a Breaking Bad fan?  I don't normally watch a lot of TV so this show was not on my radar when it was on during the regular seasons.  But last year when the series finale happened, my Facebook feed blew up with everyone talking about it and what an amazing show it was.  I needed to know what everyone was talking about.  Once I heard the premise of the show (high school chemistry teacher goes rogue and starts cooking meth), I was not so sure.  When I saw the first two episodes, they shocked me so much I didn't know if I would be able to keep watching.  But watch I did, because I still really wanted to know how everything would turn out.  It's kind of impossible to even begin to summarize my feelings about the unbelievable writing, the incredible acting, and the series as a whole other than to say – it's in a class of its own.  It hooked us like no show ever has before, and now that we are finished, we have no idea what series (if any) we will pick up next because we can't imagine how anything could compare.
Even with a show as engrossing as Breaking Bad, I am really not good at sitting still and watching any TV show or movie for an extended period of time.  Knitting is the perfect solution, as it keeps my hands and mind busy enough to sit and watch something.  And thanks to the frigid weather, knitting is even more handy now than before.  I've been all about cowls lately.  The herringbone cowl (left) is my most recent addition and I am in love with it.  It is so soft and warm, and the neutral color has made it an instant wardrobe staple for me.  I also adore the red cowl, which I made to wear in our recent family photos.  The next project I'll cast on is a cowl for my girl Tara, since she is in Connecticut and experiencing her share of harsh winter weather – can't wait to see how it turns out!
The summer before middle school was one of the best ever, for many reasons.  The usual teenager things – tons of time with friends, being carefree and silly – but there was one other thing that made it especially awesome and that thing was the movie Clueless.  One of my BFFs and I saw it in the theater no less than four times (and by the way, a matinee, small coke and popcorn cost $8.25 in those good old days).  She recently sent me a link to this ModernClueless Twitter feed (summarized nicely here).  Oh how I love this.  I keep trying to pick a favorite but I just…can't.  They are all too good.
Now for something to just put a gigantic grin on your face – please, go check out these photos of an amazingly lovely proposal shot by some of my best friends.  Then if that weren't enough, watch the brilliant video of the proposal made by my friend Ben.  Have tissues ready.
And last little thing – yes, t-shirts are back, but they are almost sold out again!  I am loving the new designs and apparently you all are too.  It looks like we will be shutting down sales late tonight so if you are still hoping to order, do it ASAP!  Next round of sales will be in a month or two.