Okay, so I totally have to start out this month's post with this tote bag I bought a month or so ago.  I was in major need of a good bag to drag all my stuff to and from work.  I think the last time I bought one was five years ago, so it was time!  I searched high and low without much success and then one day, the bags from Etsy seller ikabags popped up on the Etsy homepage.  I was in.love.  After agonizing between four different designs, I settled on the combo you see above.  I'll admit that the price was a little more than I was planning to spend initially, but this bag is so well made, it's totally worth the cost.  It has a nice assortment of internal pockets to hold the smaller items rather than having them scattered around the bag.  I get compliments on it all the time and recently one of my friends saw me with it and said, "That is so you. It was made for you!" Couldn't agree more.  Also, random little tip – one day I decided on a whim to throw a lavender sachet in my bag and I adore having it there.  Every time I pick it up, I get a fresh wave of natural lavender scent (one of my favorite smells ever).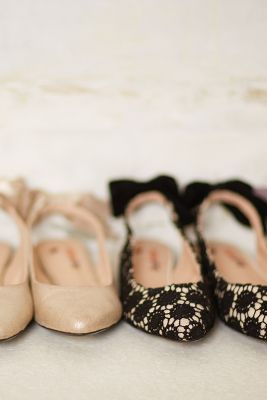 Since we all know I can't go more than two months without finding a reason to buy new shoes, these adorable flats were my most recent reason.  As much as I love the housewares and some of the clothes and accessories at Anthro, I haven't really paid any attention to their shoes before.  I normally see all their chunky heels and wedges on other blogs (which are majorly not my style), and it never occurred to me that they would have so many cute flats!  Now I know.  Uh oh.

In spring and summer, I'm all about bright, fun nail colors and learning how to use builder gel on natural nails. Even in fall and winter I used to tend not to wear many very dark shades. Last winter, I picked up this OPI classic (Lincoln Park After Dark) and decided to give it a try.  It is by far my favorite color for the cool weather months now, and I kind of just want to wear this until spring time.  It's a slightly metallic dark purple that is so dark, it *almost* looks black.  But not really black.  I haven't worn that since I wanted to be Claire Danes or Christina Ricci in middle school.
With cold weather approaching and an ever growing urge to knit, fingerless gloves are on my mind.  I've been saving a lot of my favorite patterns and can't wait to make several of them!  Friends, if you have a preference let me know, because more than likely I'll be gifting you a pair!  These are a few of my faves.  The patterns pictured above are Fallberry Mitts, Sabrina Mitts, and Cuffed Hand Warmers.
On a related note, though I have never actually seen a movie with Ryan Gosling, I adore all the "Hey, girl" memes I see around the interwebs.  This one is for sure my fave.
Reading of the fun variety has ceased until my exam is over, but I did read a couple of books worth mentioning in the past few months. First, Eleanor & Park by Rainbow Rowell.  I'm no literary critic so I don't have anything eloquent to say about why I find this book so incredibly wonderful except: Sheesh, I really, really, really loved this book.  Go read it and you'll understand why.
Another fun read was Where'd You Go, Bernadette by Maria Semple.  I thoroughly enjoyed the characters in this book because nearly all of them have qualities that make you both love and hate them simultaneously.   The plot may be totally unrealistic, but I'm reading fiction for a reason, right?

I've never been able to really get into the hashtag thing and when people tag Instagram photos with 20+ hashtags well… don't get me started.  One of my friends and I have been having entire text conversations in #hashtag for a while and we find it endlessly entertaining, so this video sums up my feelings pretty well.  I'm sure 90% of you have already seen this passed around Facebook but I had to share it anyway.  Consider it part humor, part PSA.
Disclaimer:  I have no affiliation with any of the products or companies mentioned above, and they don't even know I'm writing about them.  I'm just sharing things I love with you, because I love them!