June came and went and July is almost through, so I'm overdue for an installment of "things i'm loving lately".  Before I forget, I have been meaning to announce for a while that I am officially on Pinterest (and have been for some time).  I don't have a lot of free time to spend curating immaculate boards on every topic under the sun, but I do use it regularly to save ideas and inspiration.  So, if you care to follow me, please do!  Also feel free to let me know in the comments if there are specific boards you would like me to create.  I'm all ears.
A super fun addition to this month's installment includes a fantastic and generous giveaway from Erin McDermott Jewelry.  You may remember a couple of months ago when I mentioned the Zoey necklace as something I loved (still do, by the way, and wear it all the time.)  Anyway, Erin caught wind of my mention and offered to send me a few more pieces as well as provide a giveaway for my readers.  I was thrilled!  Erin is sweet, kind, and immensely talented, and I have been a fan of her work for quite some time now.  Head over to the giveaway page to read a bit more about her work and enter for a chance to win some pieces for yourself!
Alright, on to the usual stuff.  Starting with this shirt from a-thread.  Guys, I meant to tell you about this shirt a full year ago but for some reason, I had renamed it in my head and consequently could not find it.  I thought it was no longer available and was bummed I couldn't share it with you.  Totally my fault but it's all good now!  This is a staple wardrobe item.  It's baggy but flattering, and easily the most comfortable piece of clothing I own.  It can be dressed up or dressed down.  I wear it to work often but have also layered it for yoga class.  Bottom line, I adore it.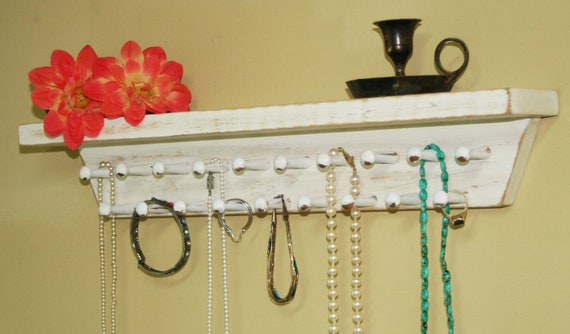 Last time I mentioned my new method of earring organization using ice cube trays.  (I am still totally in love with this, by the way.)  A few people asked for recommendations on organizing necklaces.  Being the Etsy addict that I am, I bought this necklace organizer from seller Garden Cricket a few months ago.  (I requested mine be less distressed than the one pictured here and they were happy to oblige.)  It has been absolutely perfect for my needs.  Just the right amount of storage with room for more, and I love having the little shelf to hold a few other items as well.  I'll probably put a framed print there eventually.  Just trying to decide which.
Another reader question I've had a few times recently is about the headbands I wear sometimes.  These are from a local quilter who also has an Etsy shop, Crimson Tate.  I purchase these at a few stores in downtown Indy as well as my yoga studio.  I love these headbands!  They come in so many awesome fabrics and colors, it always takes me forever to decide which to narrow it down to.  And then I end up just buying another the next week….
Okay, so since becoming obsessed with knitting, I have been a big fan of the patterns of knit items from Purl Soho on Ravelry.  Only recently did I discover that they have a blog, Purl Bee, that is so much more than just knitting.  Tons of amazing craft ideas, and I want to do every single one of them.  Who's with me?  Starting with this rainbow blanket.  Caroline would absolutely adore it.  I'm already knitting her a nap time blanket for school at the moment, but I may need to make this as more of a keepsake for her.  Just have to remember how to crochet…it's been a while.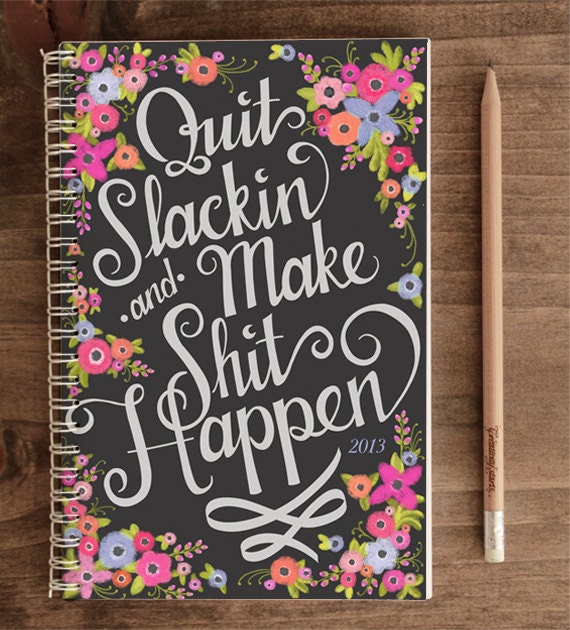 Is this planner me in a nutshell?  It might just be.  I saw this pop up on Etsy from seller Ninj & Ninj and bought it instantly.  I haven't used a physical planner for quite some time but I have found since I bought this that I have been more efficient and productive.  No doubt a result of the message on the front, right?  So much easier than making tons of random notes and reminders in different places on my phone.

This is another thing I've been meaning to tell you about for a while.  Sheesh, so many things!  Anyway, this Park Mobile app for smartphones is totally awesome.  A while ago Indy switched over all the parking meters to electronic meter stations rather than individual meters at each space.  I always, always have trouble with the electronic meters.  If you don't make a selection at lightning speed, your transaction is canceled.  If you forget your space number, you have to walk back and remember it again.  Don't even get me started on climbing over and into huge mounds of snow in the dead of winter to use the thing.  With the app, you simply enter the space number, select the amount of time you want to park for, and start parking.  That's it.  If you happen to walk elsewhere or catch a ride with someone, no need to physically return to your space to add more time to the meter.  Just do it from your phone.  It's seriously awesome.  If this is available in your city, get it.  You will love it.
Lastly, your dose of humor for today.  First there were hilarious Twitter accounts, now there are laugh out loud Pinterest boards, including this one starring the very chic fictional girl Quinoa (best name ever).