Here's a peek at what I've been loving in March/early April!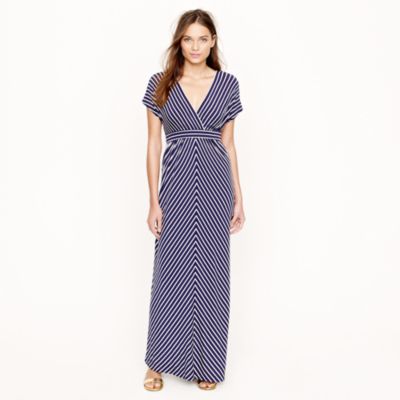 Just a few quick brushes with warmer weather have made me ever so anxious for spring and summer wardrobe updates.  This J.Crew maxi dress was love at first sight/instant purchase for me.  Last summer I bought one maxi dress from Target and I wore it all the time, so I know this will be a staple piece for me very soon.  I bought the navy but am contemplating the red as well.
Not exactly a grown up fashion find, but I have to say that as a parent, the only thing cuter than little kid clothes is little kid PJs.  Hugging my babies in their PJs all snuggly and sleepy are some of my favorite moments of the day.  So, I always get excited about cute little pajamas and when I saw these twin packs of short johns from Mini Boden, they were bound to end up in Caroline's closet.  Thankfully I had a coupon and found another coupon code online, so I got a good deal, but they are just too cute to pass up.  I bought both the set pictured above as well as the cupcake set, naturally.  They are even more precious in person.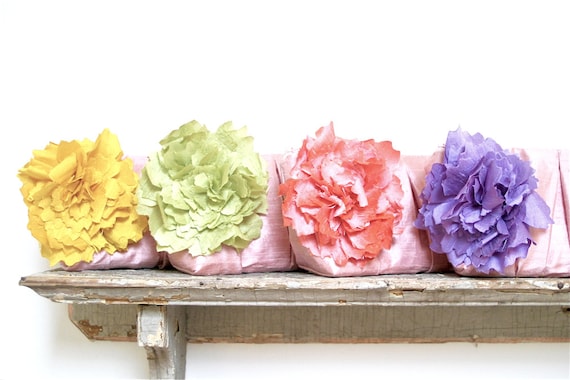 My life isn't exactly fancy enough to require a clutch purse, well… ever, but a girl can dream right?  Actually rather than dreaming, I prefer to buy as gifts for friends.  I have loved the Etsy shop eclu for several years and have bought a few of these gorgeous items for friends.  Most recently I bought a pink/coral clutch as a birthday gift and it was so lovely and perfect for spring.
Thanks to all of you awesome readers who responded to my last Things I'm Loving post to recommend fast-drying top coats.  I don't spend enough time researching products to even know such a thing existed but wow – they are fantastic.  I tried a few of the different brands recommended but after all my experiments I have to agree with the majority.  Seche Vite is incredible!  It's definitely the fastest drying and the longest lasting of everything I tried.  I am sold on this and wish I had known about it oh, 15 years ago.  Please, if there is some other fabulous find you have that I need to know about, send it my way!

Okay, so I'm not much of a perfume person in general and I don't experiment with different scents much.  I've been wearing the same type of body splash for probably a decade and I'm content with it.  But, when Courtney came to visit recently, she used this black currant vanilla lotion and I loved the smell of it.  I'm not typically drawn to the Bath & Body Works scents for daily wear but I do love love love their aromatherapy line.  The next time I was at Bath & Body Works I made sure to stock up and now I have it at home and at work.  I wish they had an actual body splash or perfume of this scent because it would no doubt become my every day fragrance.  Even just wearing the lotion, I have had so many people ask me what the scent is and where I got it, so I know I'm not the only one who agrees this stuff is awesome.
I've been on an organization bender since the beginning of this year.  I think the post-holiday putting away of decorations and reorganizing to fit in new toys, etc. always gives me the nesting urge.  I've been making big and small improvements in lots of areas of our home but one I am most excited about is using a pant hanger as a ribbon organizer.  I picked up two of these from Target on a recent trip and having wrapped gifts twice in the past week I can attest that this thing has been fab to have.  Just do it.  (I can't link to the ones I bought from their website and I definitely did not buy a $19 hanger like the one I see online.  I'm pretty sure it was the Threshold brand and was around $8.)
Indy peeps, I am absolutely addicted to Taste Café in Broad Ripple.  A couple of months ago I worked near there for a four week stint and I was constantly finding reasons to go for lunch.  Whenever someone wants to grab lunch now, this is my suggestion.  I just love the huge variety on their menu with so many more options than the typical lunch fare.  I try something new almost every time I go and have never been disappointed but I have to say the roasted salmon sandwich is my current favorite.
I wish I had a fabulous book recommendation for you but unfortunately the book I just finished was only so-so.  But, I have as usual been listening to episode after episode of This American Life.  I have heard numerous episodes recently that have blown my mind, made me cry, made me laugh…I just can't get enough of it.  There are a couple I have found especially captivating lately.  The one pictured above, Parent Trap, caught me off guard and had tears streaming down my face at the conclusion of each of the two acts.  The first act hit close to home because, similar to the family in the story, my mom left me little letters and notes for me to receive after she had passed away.  Though mine were always positive and never left anything but a feeling of love for me, this story went straight to my core and I could so understand the emotional roller coaster of the main character here.  And the second act…to be honest, it sounded 100% cuckoo to me when it first started and I nearly turned it off, but by the end the story of Lucy the chimp really struck me.
And, the episode The Right to Remain Silent was gripping and jaw-dropping and I just could.not.stop listening.  Amazing stories here.

If you've followed for a while, you may have heard me mention my awesome friend and art director for the site, Ryan, from time to time.  What you may not know is that Ryan and his wife Andrea have two of the cutest little girls ever.  Here, his daughter August is blunt the way only a kid can be and tells it like it is: "Worry about yourself."