As you all know by know, I love me some ModCloth.  I actually purchased this brand new zag top back in December and have been wearing the heck out of it ever since.  (Technically they call it a dress, but in my wardrobe it's a top.)  It is cute, super comfortable, and gets compliments all the time.  I like to pair it withe black leggings and gray boots.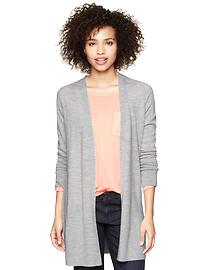 On some other dreadfully cold day back in December, I was so miserable that I went on a cardigan online shopping spree.  I'm all about cardigans anyway, but this winter I've been reminded just how much of a wardrobe staple they are for me and that I can never have too many of them.  This particular sweater has become my BFF.  It goes with almost anything, is super soft and warm, and works in almost any situation.  I've worn it to work, out on a date night, at home with the kids, and even to hot yoga.
I'm an OPI lover and I fall victim to each new line they release basically every time I visit the hair salon.  Imagine my excitement when I learned online that they had released a Skyfall 007 line.  Say what?!  I quickly made a trip over to the salon only to learn that they had already been basically wiped out of all the shades and wouldn't be getting more in.  Thank goodness for the internet, right?  I chose Casino Royal, Die Another Day, and Goldeneye.  I really love them all, but I think Goldeneye might be my favorite.  (It's the polish I wore in these photos – lots of readers loved it too!)
And speaking of nail polish…are you ready for this?  This is a life-changing tip.  (Understand I mean life-changing in a totally superficial, related to nail polish sense.)  My friend taught me this trick.  Apply nail polish as usual (I do a base coat, then two color coats usually.)  Let air dry about two minutes.  Then soak your fingertips in a bowl of ice water for three minutes.  It helps your polish set much, much more quickly than by air drying.  I still let my fingers air dry until the water has evaporated from my fingers but still, this is so, so much quicker.  In the past I would paint my nails, go three hours being ultra careful and then still, the first time I touched anything, they would get blemished.  As a result I probably painted my nails twice a year, if that.  Now I've had them painted probably five or six times in the past month and a half.  (Also, I know this sounds really difficult but to me, the first minute is the hardest and after that your fingertips are kind of numb and it's not that bad.)  I still put on a top coat later, but that never takes long to dry anyway.
No matter how old I get, I'll never stop giving out Valentine's Day treats to my friends and coworkers.  I haven't completely decided on what treat I'll be handing out this year, but I did buy some fun packaging embellishments from good ol' Paper Source several weeks ago.  Sadly the adorable stuff I bought is no longer available, but never fear.  They have so many other cute options to choose from.  Last year I made the ever popular soft frosted sugar cookies, decorated them with Valentine sprinkles, and packaged them up with baker's twine and these cute "XOXO" stickers.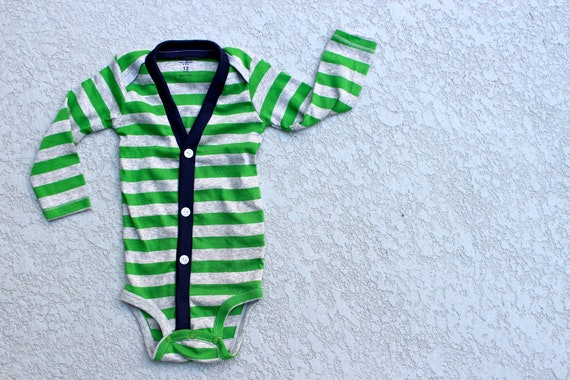 When it comes to baby gifts, I'm normally one to stick to the registry and buy functional items that the parents-to-be really need.  However, those functional gifts aren't always the most fun to give, so I tend to throw in something else that's a little more frivolous like clothes.  However, when the baby arriving is a third or fourth child, there isn't much else the family needs and in that case, clothes it is!  My sweet pal Josie recently gave birth to her adorable twin boys and when I saw these little cardigan onesies from the Etsy shop Haddon & Co., I absolutely could not resist sending her a pair.  This may become my go-to "fun" gift for friends expecting boys…or maybe not.  Wouldn't want to ruin the surprise for any friends reading this!
As I've mentioned in my past few instagram posts, I've gotten into knitting.  Like, really into it.  It may come as no surprise that I've never been great at sitting still.  Knitting gives my hands something to do when Ben wants to watch a movie, when I'm sitting with the kids in the playroom, when I'm sitting watching swim lessons, etc.  If you're already into knitting I'm sure you are well aware of Ravelry, but if you are new to knitting or looking to get into it, I apologize in advance for just stealing away your next 24 hours as you save pattern after pattern.
File this under things everyone else probably already knows about, but I finally started using the Starbucks app recently and it is awesome.  My girls told me about it last fall during our trip to CT but since getting our espresso maker, I've barely been to Starbucks at all.  However, at the holidays we received lots of Starbucks gift cards (woohoo!!)  I downloaded the app, loaded all of the gift cards onto my account, and now I can just pay with my phone rather than a credit card or cash.  So convenient and quick.
I haven't had a ton of time for pleasure reading lately, but I did read the book The Round House by Louise Erdrich last month and I absolutely could not put it down.  It covers some interesting themes from, at least in my opinion, a somewhat unique perspective and kept me on the edge of my seat until the very last page.
As always, I have been listening to lots and lots of episodes of This American Life.  I'm going back in time through the archives.  There have been tons of really incredible shows that I've heard lately but this one  in particular (Very Tough Love) was fascinating to me and had me Googling afterward to find out more information on the rest of this story.
And now, for your dose of humor, this fantastic video of The NFL: Bad Lip Reading.  When Ben first showed this to me, I thought it was dumb for about two seconds and then we were both laughing to the point of tears by the end.
Disclaimer:  I have no affiliation with any of the products or companies mentioned above.  I'm just sharing things I love with you, because I love them!