As I mentioned earlier this month, I thought it would be fun to start doing occasional off-topic, non-food related posts here on the blog.  In the Things I'm Loving posts, I'll share…wait for it…some things I've been loving lately.  Revolutionary, I know.   Here (in no particular order) is a peek at what I'm lovin' in July!
Do you guys know about ModCloth?  If you don't, you should.  It's a totally awesome vintage clothing site with a massive selection and (mostly) reasonable prices.  I have ordered more than a few things from them and have loved every single one.  My two favorite recent purchases:
This polka dot top (though they call it a dress – say what?!!).  I wore it in our recent family photos and looove it!
And this cat t-shirt.  Are you kidding me with the cuteness?!  Andrew loves when I wear it :)
My biggest fashion weakness is J.Crew.  Le sigh.  Two favorite recent purchases: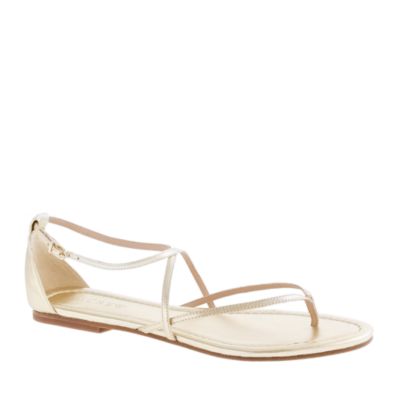 I bought these sandals in early spring and have worn them practically all summer long.  I never got into the gladiator sandal trend when it got rolling and I'm still not totally on board, but these are so cute and they go with everything!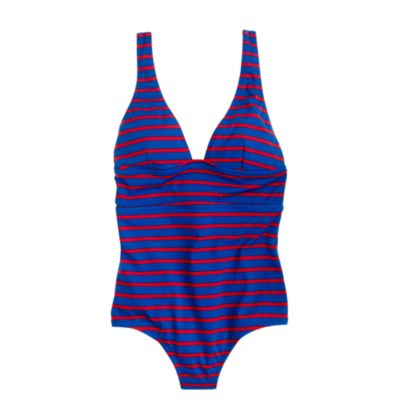 Thank goodness for J.Crew's awesome swimwear line as well.  This summer I finally broke down and bought a one piece since my time at the pool is spent chasing the kids, hopping in and out of the pool, and trying to keep the kids from pulling my suit off.  I was not thrilled but they have so many stylish options that don't make me feel like I just aged two decades.
I don't get to partake in any tropical or even beach vacations this summer.  However, I have an obsession with coconut-scented products and this coconut body scrub from The Body Shop is awesome.  The beachy scent and the coarse grains of exfoliant make me feel, at least for a minute, that I might be at the beach (if I close my eyes and imagine reeeeally hard).  I also appreciate the company's values and efforts towards important social campaigns.  Very cool indeed.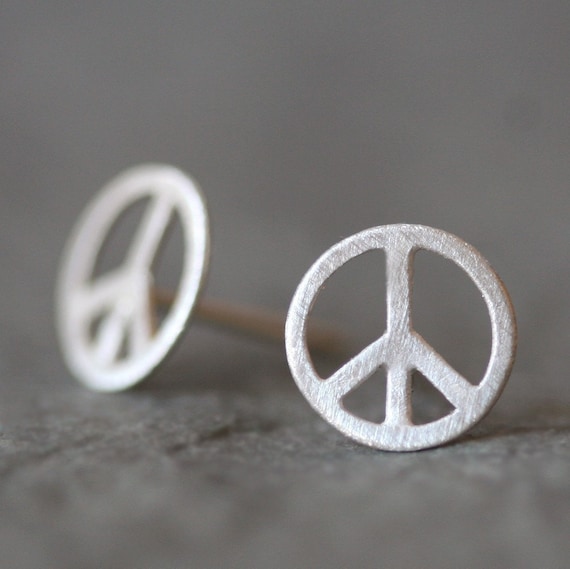 I don't think I've bought (or wanted) a piece of super fancy jewelry since learning about Etsy.  The massive selection of handmade pieces there is all I need.  I am always amazed at the gorgeous and these peace sign earrings have been on my wish list for a while.  I finally ordered them and can't wait for them to arrive.
If you're ever looking for inspiration for home decor or design ideas, look no further than Design Seeds.  My brothers and I are getting ready to make some updates to our family home since it is in much need of some TLC.  I was at a total loss as to where to start but this site has given me so much inspiration.  I could (and do!) browse these beautiful images/color schemes for hours!
I'm pretty sure everyone knows about Shazam, but just in case you don't, prepare to have your mind blown.  When I first heard about this app, I seriously thought the person telling me was trying to play a joke on me.
Another app I have been loooving is my White Noise app.  My mind is racing much of the time and when I lay down at night, it's often very difficult for me to shut off.  This app has a big selection of different white noise sounds.  My favorite is, of course, the ocean.  The one with the cat purring totally cracks me up :)
Even though I don't have tons of free time for fun reading, I try to do it as often as I can.  I've been a bookworm my whole life and it's my favorite way to spend any early morning or late night moments of silence.  I recently read Life on the Line, the biography of Grant Achatz and story of the creation of his esteemed Chicago restaurant Alinea.  I'm not in the business of writing extensive book reviews and don't consider myself a literary critic, but the bottom line is I devoured this book and I highly recommend it.  The transitions between the two narrators can be clunky at times, but otherwise this is a great read and reading about the thought process that went into starting the restaurant was particularly fascinating.
And to end with a good laugh, one of my favorite internet videos of all time (definitely NSFW).  Did our refrigerator magnets say "giant squid" for a really long time because of this?  Yes.  Yes, they did.