Hey, it's another cupcake basics post finally!  Did you think I had forgotten?  (Maybe I had, a little.  I've been distracted.)  One of the most frequent cupcake-related questions I receive is regarding how I transport all the cupcakes that I bring into work, etc.  It's a great question with several answers.  I use one of a few different methods depending on my particular needs in each situation.  When transporting cupcakes for an order or event, I generally use a disposable cardboard bakery box (you can find them at Michael's, Joann's, online, etc.)  However, if you just put your cupcakes in the box and put the box in the car, you're going to end up with a mess when you arrive at your destination.
A little trick I like to use is to melt a handful of chocolate chips in a plastic baggie.  I cut off the tip, put a little dot of chocolate where I want each cupcake in the box, and use the chocolate to basically glue them down.  (Sometimes I use colored candy melts if I want the spot to be inconspicuous in relation to the color of the wrapper.)  Easy peasy!
Keep in mind that these boxes are often a bit flimsy on their own so you may want to consider reinforcing the bottom with an additional piece of cardboard.  I do find that if the cupcakes are held down with the chocolate method seen above, I usually don't have any trouble with the box flopping around.
I used to employ the box method seen above for bringing cupcakes into work but I was feeling really guilty about the waste from all those boxes.  I used to have a cupcake carrier from Crate & Barrel that was half broken and not of great quality, so I didn't love that either.  For a while I would just put them on a baking sheet and cover loosely with plastic wrap – not pretty, but it did the job.  Then, I found this cupcake carrier – it is the BEST EVER!  (And Cook's Illustrated agrees, so you know it has to be true.)
This Progressive cupcake carrier is awesome for several reasons:
It's inexpensive – always a plus.
It has little wells to keep cupcakes in place.
The cupcake inserts can be removed and it can hold a nice size layer cake.
It collapses down for easier storage.
Most important to me, it has plenty of room for a properly frosted and garnished cupcake.  No more spending time to make frosting pretty and the smashing it when you put the lid on your carrier.
When it's totally collapsed it's a bit funny looking and it has been dubbed "the spaceship" in our house.  I'm always asking Ben to, "Get the spaceship down," and he knows exactly what I mean.  Ha!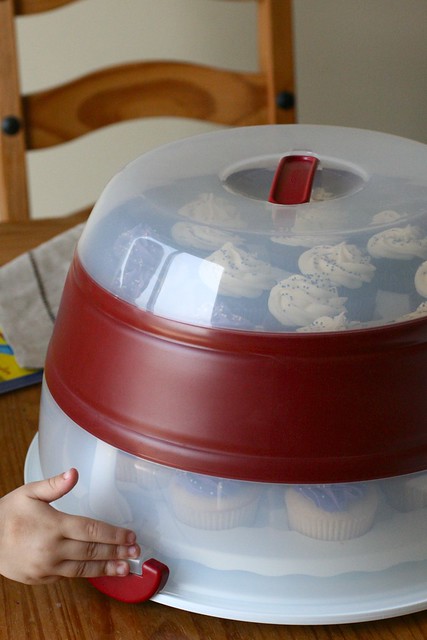 Oh, one last benefit – when it's closed, it keeps your sweet treats safe from sneaky toddler hands :)
Full Disclosure: I have no affiliation with Progressive and they don't even know I'm writing about them.  Just giving my personal opinion about a product I love.