Let's get right to today's installment of The Best of 2009.  (Proof that I don't make only desserts :) )

Pappa al Pomodoro – this thick and chunky, spicy tomato soup has become a favorite of mine.  When I first made it, I didn't think it would be able to surpass my old tomato soup recipe.  However, I have found that every time I crave tomato soup, it is this version that I gravitate towards.  I just love the kick from the spices, the chunky texture, and the awesome garnish on top.

Fresh Fruit Tart with Vanilla Pastry Cream – I can't say enough good things about this dessert.  It is light and pretty, it is easily adapted to whatever fruits are in season, and most importantly, it includes vanilla pastry cream which just happens to be one of the most heavenly foods in the world.  The combination of the sweet tart dough, fresh fruits and pastry cream is simply divine.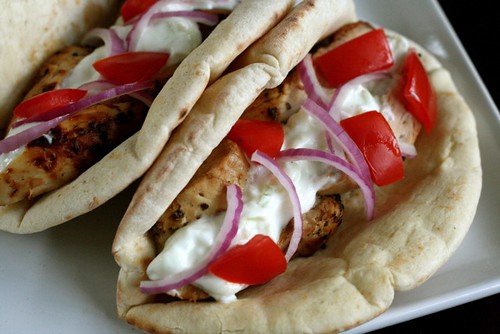 Chicken Gyros – This dinner changed my life.  An extreme statement, but true.  For someone who loves food as much as me, it's no small matter when a new recipe becomes my favorite dinner ever.  The flavorful tzatziki sauce, the delicious chicken and homemade pita bread make for a dinner that comes close to perfection for me.  It's great for entertaining or just enjoying on your own.  Oh, how I love them.

Potato Rolls – Homemade bread just can't be beat, and I love to make a big batch of homemade rolls to have in the freezer and take out at a moment's notice.  These rolls have an amazing light texture with a perfect crust, and go very well with most meals.  Even better, they still taste fantastic even after being frozen for months.

Coffee Ice Cream – Though I'm not a huge coffee drinker, I've always enjoyed coffee ice cream.  This version is phenomenal and I think the best ice cream I made this year.  I love it too much to do anything other than eat it straight before it is all gone, but I think it would be a perfect pairing for a brownie or a piece of uber chocolatey cake, or sandwiched between two chocolate cookies.

Seven Layer Bars – These bars may not be revolutionary, but they are definitely addicting and delicious.  They are also one of the easiest treats I can think of and you can have them in the oven in minutes.  Also, they contain that ingredient I seem to find completely irresistible – butterscotch chips.  Yum!

Peach Cobbler – A quintessential summer dessert, this peach cobbler was the perfect way to end a meal during our family vacation.  I'm already looking forward to our next trip to South Carolina (or at least the next time peaches are in season) so we can enjoy this again.  The fresh fruit base with the amazing biscuit topping is to die for!

Baked Ziti – Who can resist a cheesy, saucy pasta dish with chunks of sausage?   Not I!  This meal has been a huge crowd pleaser every time I have served it, and it certainly does feed a large crowd.  It may take some time to prepare, but I think it's well worth it.

Stuffed Mushrooms – Without a doubt, the most popular appetizer I have ever served.  These have been a staple at nearly every party or get-together I have hosted, and they are instantly devoured.  I know many stuffed mushrooms have a lot more ingredients in the filling, like sausage, spinach, etc. but I think these are wonderful because of their simplicity, and the added surprise kick that the cayenne pepper provides.

Bacon, Egg and Toast Cups – These breakfast bites quickly became a favorite in our house.  It's easy to see why – they are delicious, use ingredients we usually have on hand, and require very little time or effort.  You can also easily increase the quantity and make enough to feed a large number of people at once.  I know we'll be making them again and again.
Stay tuned for the final installment of The Best of 2009 tomorrow!